6.1 Quality Assurance, Learning and Improvement Framework
NOTE
Following the new arrangements for the SCSB in June 2019, this local procedure will be further reviewed in line with Chapter 4 of Working Together to Safeguard Children.
In the meantime, this procedure should continue to be followed.
AMENDMENT
In October 2019, minor amendments were made to reflect local practice and terminology.
1. Introduction
'Every child and young person in Sheffield should be able to grow up free from the fear of abuse or neglect. We are committed to improving the safety of all children and young people in Sheffield. If children are not safe, they cannot be healthy, happy, achieve or reach their full potential. We recognise and promote the concept that keeping children safe is everybody's responsibility'
SCSP Vision
The statutory objectives of local safeguarding partners are to coordinate the work of partner agencies in relation to Safeguarding Children and to ensure the effectiveness of this.
In order to build up an understanding of the effectiveness of services, safeguarding partners should use data and, as a minimum, should:
'Assess the effectiveness of the help being provided to children and families, including early help;
Assess whether safeguarding partners are fulfilling their statutory obligations (in relation to Section 11 of the Children's Act, 2004);
Quality assure practice, including through joint audits of case files involving practitioners and identifying lessons to be learned; and
Monitor and evaluate the effectiveness of training, including multi-agency training, to safeguard and promote the welfare of children'.
The work of the Sheffield Children Safeguarding Partnership is multi-agency, varied, dynamic and broad reaching. The Partnership has an extensive quality assurance system in order to understand the work of the Partnership partner agencies and to identify lessons that can be learned and to drive 'improvements in the quality of service' (Ofsted, 2013).
This framework includes all work undertaken to assess the effectiveness of safeguarding work, using this to improve the quality of practice and through this, outcomes. Much of this work included in this framework is cyclical (in that it is repeated). However, there will also be additional targeted projects to fit with Partnership priorities or in response to national or locally identified areas.
There are three elements to how the Partnership understands the effectiveness of services and the impact of these. These are:
Quality Assurance: This is the work undertaken to monitor, assess and measure safeguarding work, understanding the effectiveness of this, improving quality of practice and safeguarding outcomes. This can include qualitative and quantitative data, for example, audits, service evaluation and development, focus groups, interviews, questionnaires etc;
Performance Management: This quantitative data focuses on key multi-agency performance trends. The Partnership collates this data in order to further understand and reflect on safeguarding services and practices in the city;
Learning and Improvement Framework: Each Partnership requires a Learning and Improvement Framework which 'should enable organisations to be clear about their responsibilities, to learn from experience and improve services as a result'.
This Quality Assurance, Learning & Improvement Framework outlines the wide variety of work undertaken by the SCSP, within the 3 areas above. Together they combine to build an understanding of safeguarding practices. The SCSP, including all partner agencies, are committed to being a learning Partnership, using the work described in this framework to assure it of the safeguarding practices in the city and to effectively challenge in order to improve services. This framework clearly outlines the cycle of learning and how the ongoing quality assurance work can enable the Partnership to learn from and improve their safeguarding services for children and families.
1.1 Figure 1: How Quality Assurance, Learning & Improvement leads to Further Learning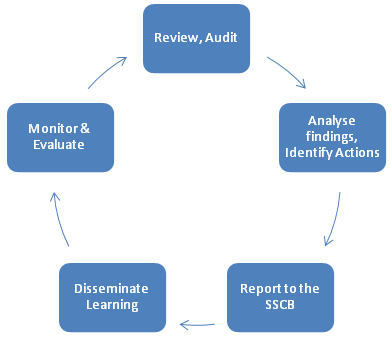 This Partnership is committed to recognising, reflecting and learning from good practice. In addition to this, work is also undertaken when issues occur, to review, and identify lessons that can be learned and whether changes in practice and/or procedure are required to improve services.
The SCSP has increased the number of projects that involve multi-agency partners and frontline practitioners and this is now a strong, and very positive, aspect of the quality assurance programme. The involvement of parents/carers and children young people has been developed recently and the SCSP are continually looking for ways of furthering this. The 'child centred' approach (Munro, 2011) remains at the heart of the Partnership's focus and work.
The Partnership seeks to continually assess effectiveness, understand impact, inform professionals of learning and drive improvements. This document outlines this process through:
A Summary of the Reviews, Performance Management and Quality Assurance Work and a description of how the learning from each is fed into the Partnership;
An Outline of SCSP Partner Responsibilities to learn from experience and improve services in response to these findings;
Improving Practice through disseminating learning to frontline practitioners.
2. The Reviews, Performance Management and Quality Assurance Work Undertaken or Commissioned by the SCSP
2.1 Reviews of Cases
The SCSP undertakes regular reviews of cases. Some are statutory. However, a wide variety of reviews of non statutory cases are also undertaken in order to 'provide useful insights into the way organisations are working together to safeguard and protect the welfare of children'.
Reviews are conducted regularly, not only on cases which meet statutory criteria, but also on other cases which can provide useful insights into the way organisations are working together to safeguard and protect the welfare of children;
Reviews look at what happened in a case, and why, and what action will be taken to learn from the review findings;
Actions result in lasting improvements to services which safeguard and promote the welfare of children and help protect them from harm; and
There is transparency about the issues arising from individual cases and the actions which organisations are taking in response to them.
2.1.1. Submission of Cases for Consideration
The SCSP is keen to learn from the experiences of practitioners working at the front line and therefore we welcome input from practitioners.
However, if there are immediate concerns in relation to a specific case then this should be discussed with a manager and if needed, the Effective Challenge and Escalation procedure should be followed (see Effective Challenge and Escalation Procedure).
If a designated safeguarding lead has followed the procedures for escalation but remains concerned in relation to a case, or identified there is specific learning that can be gained, then this can be submitted for consideration (to the SCSP Partnership Manager in the first instance).
The SCSP also undertakes Themed Audits (see below) and all professionals are welcome to submit themes for consideration.
2.1.2 Serious Case Reviews (SCRs)
The SCSP has a function to undertake Serious Case Reviews for 'every case where abuse or neglect is known or suspected and either:
A child dies; or
A child is seriously harmed and there are concerns about how organisations or professionals worked together to safeguard the child'.
The following principles should be applied by safeguarding partners and their partner organisations to all reviews:
There should be a culture of continuous learning and improvement;
The approach taken to reviews should be proportionate;
Reviews of serious cases should be led by individuals who are independent;
Professionals must be involved fully in reviews and invited to contribute their perspectives;
Families, including surviving children, should be invited to contribute to reviews;
Final reports of SCRs must be published;
Improvement must be sustained through regular monitoring and follow up.
2.1.3 Non Statutory Case Reviews
Reviews of cases that do not meet the criteria of a Serious Case Review, but that 'can provide valuable lessons about how organisations are working together to safeguard and promote the welfare of children' are also carried out by the SCSP. This provides the Partnership with the opportunity to use different models of review that best meet the requirements for learning for that specific case. Sheffield has been keen to develop a series of different styles and techniques that can be used for this purpose. There are four models shown in Table 1 below:
Table 1: Models of reviewing cases that do not meet the criteria for a Case Review
Caption: model of reviewing cases table
Type of Review
Summary
Further Details
Case Reviews

Model 1 - Information reports are produced by agencies and a Case Review Panel is established. An Overview author is commissioned. Practitioners are interviewed by their agency. Family members involved

Model 2 - Information reports are produced by agencies, in addition there is a focus group of the front line practitioners and the findings feed into the Case Review Panels findings

Used when a case gives significant concerns that will lead to learning for the city and there is a lengthy time period to be reviewed. Recommendations developed and monitored by the SCSP.

Small group of key workers involved (e.g. core group) who can assist in pulling out key learning. Recommendations developed and monitored by the SCSP.
Learning Lessons Review
One day review, no information reports produced prior to the day, information presented by agencies at the review day. Learning points developed by the panel. Can include practitioners.
Short time period under consideration. Recommendations made and monitored by the SCSP.
Thematic Enquiry
One day review that focuses on key themes from the case that are identified prior to the learning event.
Case identifies clear themes that can be further developed at the learning event into thematic lessons. Recommendations made and monitored by the SCSP.
Individual Agency Report
Learning for a single agency who produce a full IMR and actions and present this for consideration to the SCSP.
Learning for single agency.
The learning from statutory and non statutory reviews are reported to the Executive Partnership Group.
Reports from Serious Case Reviews are published and available on the SCSP SCR website for one year. For other (non statutory) reviews a Learning Brief is developed (a one page summary of the findings) and available on the SCSP website. The findings of all reviews and disseminated through the subgroups and reference groups, where relevant. In addition, Review action plans are monitored through the Executive Partnership Group Data Dashboard (see below).
2.1.4 Domestic Homicide & Serious Incident Reviews
When there has been a death of an individual of 16 years or over which has, or appears to have, resulted from violence, abuse or neglect by a person to whom s/he was related to, had been in an intimate personal relationship or was a member of the same household then a Domestic Homicide or Serious Incident review will be undertaken (if the deceased person was 16 - 18 years then a Case Review will be undertaken, with the Domestic Violence fully considered). The SCSP is involved in all reviews where there are children living in the house and the findings and recommendations are fed into the safeguarding partners. The findings of these reviews are highlighted through the Domestic Abuse Service Annual Report to the Partnership, in addition, specific updates to the Partnership and subgroups are also tabled.
2.1.5 Child Death Reviews
'The safeguarding partnership is responsible for ensuring that a review of each death of a child normally resident in the safeguarding partners areas is undertaken by a Child Death Overview Panel'. The panel meets regularly, recommendations are made and an action plan developed. CDOP provides regular updates to the SCSP Executive Partnership Group who scrutinise the performance of CDOP through their Annual report. In specific cases a Learning Brief is developed and disseminated.
2.1.6 Case Review Sub-Group
A multi-agency group of practitioners audits a case that is open to Children's Social Care (on a Bi monthly basis). The purpose is to monitor and evaluate local practice in delivering services to children and families, specifically, in relation to the quality of practice, level of agency involvement, partnership working and related outcomes. The audit tool used focuses on the child's journey and highlights areas of good practice, as well as those for development and improvement.
The process supports a culture of continuous learning and improvement, with a clear focus on impact and outcomes.
2.1.7 Themed Audit Days
The Themed Audit Days are scheduled and involve a multi-agency team that works on behalf of the SCSP to review 5 cases following a set structure. They run 3 times a year and involve frontline professionals, parents and young people.
Each focuses on a theme and the themes chosen are those relevant to local or national priorities. The days focus on the child's lived experience and the quality and impact of practice. They use Appreciative Inquiry, with the aim of identifying and learning from good practice.
Each Themed Audit Day follows the same process. Prior to the day, the theme and cases are identified. Frontline practitioners complete and submit questionnaires in relation to their work with the children/young people (an agency Self-Audit and a professionals Questionnaire). On the Themed Audit Day a multi-agency team, working on behalf of the SCSP reviews the returned questionnaires and facilitates a focus group of the professionals that work with the children/young people at the focus of the review. The focus groups run, using Appreciative Inquiry techniques (wording questions and guiding the direction of the discussion so that the group can identify what has worked well and build on good practice).
Parents and young people are also invited to meet with SCSP officers or complete a feedback questionnaire, wherever possible. Their views are fed into the final report to the Partnership. A Learning Brief of each Themed Audit Day is published on the SCSP website and distributed to the Partnerships sub groups, reference groups and to all professionals involved. If outstanding practice is identified then the Partnership responds to this.
2.2 Audits & Evaluations
2.2.1 Section 11
Section 11 (Section 11) of the Children Act (2004) places duties on a range of organisations to ensure their functions, and any services that they contract out to others, are discharged having regard to the need to safeguard and promote the welfare of children.
The SCSP monitors that organisations/agencies are Section 11 compliant through on-going Section 11 audits that are conducted on a 3 year rolling programme. If an agency does not meet all the Section 11 requirements then an action plan is developed and this is monitored by the SCSP Executive Partnership Group through the data dashboard (see below). In addition to this, specific single themed evaluations are undertaken in Section 11 related areas. Further details of the ongoing Section 11 work is available on the SCSP website and in the SCSP Annual Report.
2.2.2 Children's Workforce Questionnaire
The Workforce Questionnaire is an online feedback questionnaire for professionals with a focus on the revised performance information framework (2012, updated in 2015), Section 11 requirements and other Partnership priority areas. This included questions in relation to understanding work pressures and staff perceptions of the support they receive. The results are reported to the SCSP Partnership, relevant subgroups as well as the agencies that participated and are used to guide future work of the Partnership. The first workforce questionnaire was undertaken in 2015 and sections of this will be repeated as online questionnaires.
2.2.3 Child Protection Conference Evaluations and Analysis
Various evaluations are undertaken in relation to child protection conference processes. These include routine, regular projects as well as those developed in relation to specific local or national issues.
The SCSP Evaluation of the Strengths Based Approach to Child Protection Conferences: In 2015/16 child protection conferences implemented the 'Strengths Based Approach'. The SCSP completed a multi-agency evaluation of the new conference process including observations of conferences, feedback questionnaires for professionals and parents, focus groups for 5 professional groups and an audit of 10 cases. This evaluation had strong multi-agency participation with safeguarding leads and frontline professionals, from multi-agency partner agencies, participating in various aspects. It also had direct feedback from parents/carers via the feedback questionnaires. The results were reported to the Partnership and the Safeguarding Service. A repeat evaluation was undertaken in 2016 (one year on from the original evaluation).
2.3 Evaluation of Thresholds and quality of child protection assessments
2.3.1 Child Protection Conference Audits
As part of the Quality Assurance Framework within Safeguarding and Quality Assurance a random selection of cases are audited per month that review the quality of the assessment and analysis of risk, the involvement and participation of parents, children and young people and the functioning of the core group. The results are collated and analysed on a quarterly basis and the findings along with those from the monitoring forms are fed back into Children's Social Care.
2.4 Evaluations of Single Agency Child Protection Processes
2.4.1 Substance Misuse
Undertake regular case file reviews of the Sheffield substance misuse services client files where there are children in the household. The purpose is to make certain that appropriate information was collected regarding children and their families, to ensure timely advice was sought, referrals made and to highlight areas of good practice. In line with Sheffield Hidden Harm Strategy (2016 - 2020) case file reviews are undertaken in families accessing drug services and those accessing alcohol services to identify areas of good practice and areas needing improvement.
A regular update of the work in relation to substance misuse services is provided to the SCSP Learning, Practise and Development Group, in addition to the Hidden Harm Annual report to the Partnership.
2.4.2 Head Teacher Safeguarding Reports
To provide evidence that both the governing body and the Head Teacher/Principal are fulfilling their statutory responsibilities and modelling good practice in safeguarding and promoting the welfare of children. It is designed and intended as a supportive tool to assist schools/colleges in reviewing their current safeguarding policies and practice, identifying areas for improvement and action and, on-going monitoring and review of progress against the resultant action plan. It can also be used to support the school/college's Ofsted inspection as evidence of good safeguarding practice.
2.5 Complaints and Managing Allegations
The SCSP considers learning from customer complaints in relation to the children's workforce, including complaints about child protection processes (see Section 2, Complaints and Practitioner Disagreements of this manual) and uses these to inform the workforce development.
The SCSP receives quarterly updates from the Designated Officer (formerly known as the LADO) as part of the data suite in addition to the LADO Annual Report.
2.6 Work of Partnership Priority Areas
The following agencies submit an annual report/update to Learning, Practise Improvement Group and/or Executive Partnership Group. This enables the Partnership to be informed of the ongoing work, consider and scrutinise these:
Use of Restraint in the Secure Children's Home;
Private fostering;
Missing children/young people;
Children that are Looked After;
LADO;
CDOP;
Domestic Abuse/MARAC;
Hidden Harm;
Sheffield Sexual Exploitation Service (Quarterly update & Annual Report).
In addition to these reports, the Partnership also receives annual updates from each of the SCSP Subgroups and Reference Groups.
2.7 Single Agency Quality Assurance and Service Development
Partnership partner agencies provide the Learning, Practice and Improvement Group (LPIG) with updates of their ongoing single agency safeguarding quality assurance and service development work. Each agency report is scheduled and includes information on the findings of relevant inspection, audit, service evaluation, SCR / Case Reviews and their progress in relation to the actions arising from each of these. In addition, the Partnership may request further information and updates to inform other Partnership meetings.
2.8 Performance Management
The SCSP monitors key safeguarding performance through the data suite (see below). This information is reviewed in relation to other ongoing Quality Assurance, Learning & Improvement work.
2.8.1 Data Suite
This is a multi-agency data set in relation to 5 priority areas:
Child Sexual Exploitation;
Parental Alcohol and Substance Misuse;
Neglect;
Thresholds;
Transitions.
The Data Review Subgroup meet quarterly to review the data and provide a report to the Learning, Practise Improvement Group and the Executive Data Dashboard (see below). The identified emerging themes/issues inform the audit and evaluation work.
2.8.2 Data Dashboard
The data dashboard is presented to the SCSP Executive Partnership Group and summarises relevant information for their consideration. This includes:
The progress towards the SCSP Business Plan objectives;
Action plan monitoring from reviews and/or Section 11 self-assessments;
A report from the Data Review Team in relation to the Data Suite.
3. Organisations' Responsibilities to Learn from Experience and Improve Services in Response to These Findings
'Safeguarding is everyone's responsibility: for services to be effective each professional and organisation should play their full part'.
It is the responsibility of:
The SCSP to monitor the effectiveness of local services to safeguard children;
All organisations to continually review their practice in response to the work of the Quality Assurance, Learning & Improvement Framework and Inspection outcomes.
Everyone that works for the children's workforce in the city (including the Voluntary, Community and Faith Sector) has a responsibility to safeguard children. The majority of the members of the SCSP represent agencies that have responsibilities under s.11. The remaining members have a professional responsibility to safeguard children.
Organisations' safeguarding leads and governing bodies hold a particular responsibility to drive forward improvements in safeguarding services in line with this framework and inspection outcomes. Managers have a responsibility to improve safeguarding practices through supervision and individual performance reviews.
'Reviews are not ends in themselves. The purpose of these reviews is to identify improvements which are needed and to consolidate good practice. Safeguarding partners and their partner organisations should translate the findings from reviews into programmes of action which lead to sustainable improvements and the prevention of death, serious injury or harm to children.'
In relation to SCR, non-statutory reviews (see Table 1) and see Section 2.2.1, Section 11, action plans are in place and these are regularly monitored by the Partnership, including monitoring by the Executive Partnership Group through the data dashboard, using a RAG (Red, Amber, Green) rating system.
The ongoing cycle of audit, review and evaluation work will lead to recommendations for agencies to take forward. In some instances repeated evaluations/audits are undertaken that can highlight whether improvements have been made.
It is important that organisations are clear about their safeguarding responsibilities and respond to the Partnership's work, in particular the recommendations for their agency, providing evidence of their organisations response actively using this as a basis for developing their safeguarding work.
4. How the Learning will be Disseminated to Front Line Practitioners to Improve Practice and Lead to Better Outcomes for Children
Safeguarding partners should; 'Monitor and evaluate the effectiveness of training, including multi-agency training to safeguard and promote the welfare of children'.
The SCSP develops and delivers a substantial programme of training and learning events that:
Ensures a comprehensive programme of high quality multi-agency training that is linked to and shaped by; local priorities, learning from Reviews, audit and evaluation work and the SCSP Business Plan;
Ensures that training meets the needs of a wide range of people, including volunteers;
Actively and effectively promotes the availability of training and adopts measures to increase its accessibility, including employing a range of delivery methods e.g. whole day courses, seminars and workshops, conferences, eLearning;
Offers an extensive and responsive programme of short seminars and other learning events that are able to respond efficiently to provide a timely response to emerging issues and newly identified training needs, and to efficiently disseminate learning from reviews, audits etc.
In addition, the SCSP employs a number of evaluation tools that seeks to assess the knowledge or skills gained from attending learning events and how this will impact on practice.
The SCSP is supported in this role by the SCSP Learning, Practice and Improvement Group. This group oversees the implementation of the Safeguarding Children Training Strategy across agencies.
4.1 SCSP Training Strategy
The SCSP Training Strategy, which is revised annually, is aligned with the SCSP Business Plan and details:
How training and learning activity across all partner agencies will support SCSP Business Plan objectives. All partner agencies are required to report on how training activity provided by that agency will contribute to meeting key objectives, and this activity is monitored through the LPIG;
The responsibility of all partner agencies to ensure that training is of high quality, meets the identified needs of staff and will be maintained under constant review to ensure it remains up to date and takes account of learning from case reviews, thematic enquiry and local audit activity. All local learning and lessons for improving practice are disseminated through both LPIG and an extensive network of safeguarding representatives within agencies. LPIG will monitor how this learning is incorporated into single agency training and practice;
The responsibility of agencies to ensure that staff are supported to attend training and learning events appropriate to their role - both single agency and multi-agency training provided by the SCSP;
How agencies are required to identify gaps in training provision, or emerging training needs, in order that these can be responded to in an efficient and timely manner.
References
Department for Education, 2015. The Children's Safeguarding Performance Information Framework;
HM Government, 2018. Working Together to Safeguard Children. A guide to inter-agency working to safeguard and promote the welfare of children;
Munro, E. 2011. The Munro Review of Child Protection. Interim report: The child's journey;
Ofsted, 2011. Good practice by Local Safeguarding Children Partnerships. Ref 110079;
Ofsted, 2013. Inspection of services for children in need of help and protection, children looked after and care leavers. Ref 130168.